Thanks to Norma Gail for inviting me to participate in the My Writing Process Blog Tour. Norma is a women's Bible study leader, blogger, and author. She is a member of American Christian Fiction Writer's, Faithwriter's, and the New Mexico Christian Novelists.
Her debut novel, Land of My Dreams, is published by Lighthouse Publishing of the Carolinas and is available from Amazon. It tells the story of an American college professor and a Scottish sheep farmer who must learn to leave loss and doubt behind in order to find lasting love and renewed faith in God.
What I am working on now?
I'm currently writing a series with my former pastor, E. Truman Herring, based on his original manuscript, Growing Through The Storms of Life. We're working on converting it into a series of 3 or 4 shorter Bible studies for women based on the disciples' experience in the storm the night that Jesus fell asleep in the boat (Matthew 8). The first book in the series examines how Jesus prepares us for the storms that lie ahead, just like he prepared the disciples by deliberately leading them through experiences before the storm hit.
How does my work differ from others in its genre?
I never get tired of leading small groups and teaching Bible studies. However, in the years I've been teaching, I have found that Bible study books that require 45 minutes or more of homework each day start to overwhelm my small groups and many never complete the studies they start.
I want to engage the student of the Bible who is serious about learning in spite of a busy schedule and competing responsibilities. A study like Enduring Faith is challenging without being overwhelming and it is in-depth without being too long.
Why do I write what I write?
I write because I'm a teacher at heart. I see lessons in everything: family, work, school all provide stories that demonstrate what God is teaching me each day. This is the teaching example established by Jesus as he used parables drawn from agriculture, family, and business to teach life-changing, valuable lessons.
How does my writing process work?
I've been journaling for years. Notebook after notebook has been filled with sermon notes and thoughts and impressions based on daily Bible reading. My husband bought me a Journaling Bible one year and I've been filling the margins with cross references and ideas as I read through the Bible. When I finish, I hope to get another one and do the same thing.
These journals provide ideas for devotions, blog posts, and my next writing project.
Next on the "My Writing Process" Blog Tour…
Let me introduce the next writer on this blog tour: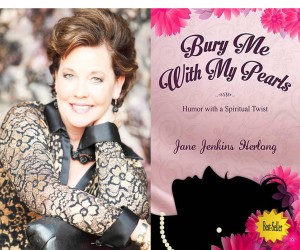 Sirius XM Humorist, Amazon "Best-Selling" author and award-winning professional singer, Jane Jenkins Herlong, CSP finds the funny in dysfunction while entertaining with her comedy laced with Biblical truths and singing heard on Sirius XM Satellite Radio and Pandora. Jane helps audiences confront negativity with grace and humor to increase performance and productivity as she did overcoming being labeled Dyslexic and other challenges. From the tomato fields of Johns Island, South Carolina to a Miss America runway and beyond, Jane's funny original, Southern stories and award-winning singing helps audiences learn life-skills and the healing power of laughter when dealing with stressful issues thrown at their field of dreams. You will love this farm-girl's Southern-style recipe for balancing your own personal journey with a sense of humor, hope and heaping helping of folksy wisdom.