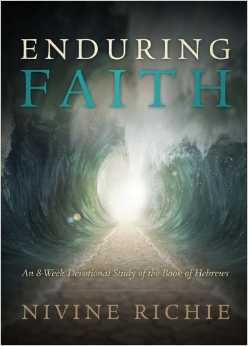 This eight-week Bible study delivers a balance of in-depth study and manageable homework. Written in a devotional style with real-life examples to connect you with the lessons in Hebrews, each day's study is paired with discussion questions and space for journaling. This book can be used for small-group or for personal Bible study.
Praise for Enduring Faith …
Nivine Richie is a great storyteller. She possesses the admirable gift of taking complicated Biblical concepts and making them simple and understandable.
Sharon Gill
Dr. Richie uses her travels throughout the world to illustrate the things she is teaching. Although this study is primarily useful for personal Bible study and small groups, preachers and other scholars should get this book. I have not seen a better outline of the book of Hebrews than the one she gives at the beginning. Great topics for expository teaching.
John Thornbury, Th.M., D.Min.
What a gift! With its soul-searching insights and relatable word pictures, Enduring Faith brings the book of Hebrews to life. In a generation blown about by every wind of doctrine, this study could not be more timely.
Mary Jane Waters
Nivine Richie tells stories and pertinent truth delightfully. I loved Enduring Faith and was challenged more than once in my faith's endurance. I'm convinced this insightful study on honest faith will help readers explore their faith more deeply, and yet learn how to live it more practically.
Robin Bryce